Investor Relations
Company
Profile
We are one of the main homebuilders in Brazil, providing quality housing for a growing number of low-income families that wish to become homeowners
Our projects are launched in brackets 1.5 and 2 of the Casa Verde e Amarela (PCVA) program, aimed at families with monthly gross family income of up to R$ 4,000.
We are very attentive to guarantee that we will deliver our projects on time. Since the start of the current business model, implemented in 2013, all our projects were delivered on time.
We invest in the permanent training of our team of professionals and we are rigorous when choosing the construction materials used and when developing our projects, always focused on the happiness and pride that families will feel when transforming their first Tenda into their homes.
We currently operate in 8 Brazilian metropolitan regions, under a business model that has allowed us to grow with quality and bring expected returns to our shareholders.
Business Model
Our business model is anchored in four main pillars:
Project financed at launch: we only sell when the venture is properly approved by the financial institutions authorized to operate in the PCVA program

Integrated sales and transfer: we provide all the necessary support to our clients so that they can approve their mortgage with the financial institutions, aiming to reduce the period between the sale of the property and the subsequent approval of the client in the bank (transfer process)

Standard construction method: we build our projects in concrete walls using aluminum molds, allowing an agile and efficient production cycle and bringing efficiency to the capital employed management

Internal sales force: most of our sales is based on our own sales force, reinforcing our brand and ensuring that the experience of buying the first Tenda is ever better
Value Creation
Since the development of our current business model, we have continuously improved our quality and productivity, which reflected in sales growth and the strengthening of our financial results. With R$ 1.9 billion in launches in 2018, Tenda became the third largest Brazilian listed homebuilder, and has established itself as a profitable and solid company. We achieved R$ 200 million in net income in 2018, resulting in a return on equity (ROE) of 17.0%, while maintaining an unleveraged balance sheet, with more cash than indebtedness.
We are a true corporation, with a free float higher than 90% of our shares outstanding, listed on B3's Novo Mercado, the highest level of corporate governance in Brazil. Our leadership is composed of a 100% independent Board of Directors and an Executive Board that, on average, has more than 15 years of experience in the construction business and has participated, for the most part, in Tenda's transformation process, which started in 2013.
Thus, Tenda has stood out among Brazilian homebuilders, attracting the attention of several families, who wish to realize their dream of becoming homeowners, and investors, who believe, as we do, that the future of affordable housing in Brazil lies in the combination of social purpose and the quality of business management.
Where We Are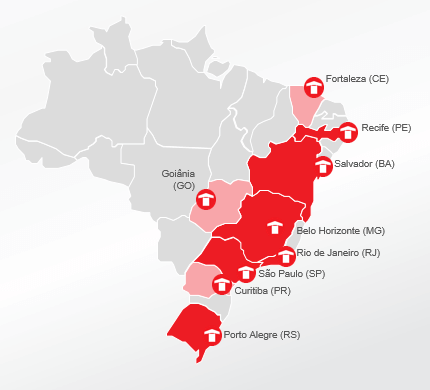 Last Updated on September 23, 2022